Fruits of Our Dreams Mural- Pacoima, CA

Completed: March 2002
Description: 15' high by 60' wide acrylic on stucco.
Located: Williams Furniture Store, San Fernando Road and Van Nuys in Pacoima, CA.
Funding: City of Los Angeles Public Works Neighborhood Matching Funds Grant
Details: Commissioned by Pacoima Beautiful, in conjunction with Project Grad, UCLA, San Fernando High School and the Jet Propulsion Lab. Susan Krieg was brought into the project three weeks before a visual was required to be presented to the City of Los Angeles for approval. Pacoima Beautiful provided historic reference material and Susan designed and got the proposal passed.
Susan mentored 4 UCLA students in mural painting and art direction. Twelve San Fernando High School students assisted in painting the mural. The imagery tells the history, culture and notable elements of Pacoima including: peach, pear, olive, walnut and orange groves, a mission, Whiteman Airpark, notable personalities Richie Valens and Mary Helen Ponce.
Additional Photos: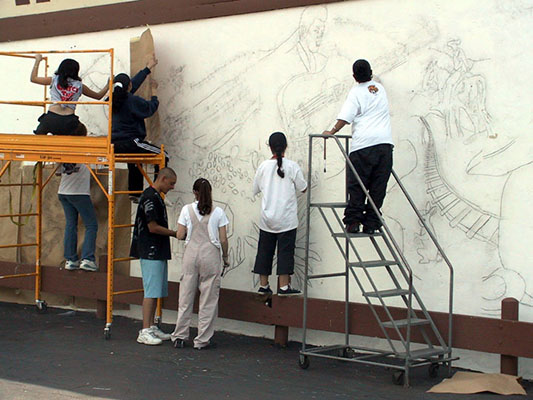 San Fernando High School students use a method of pouncing the image onto the wall.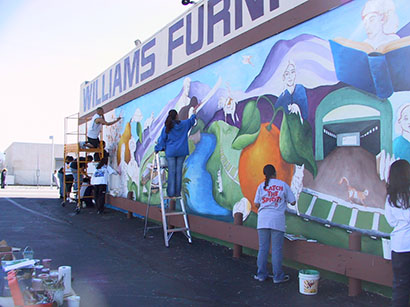 Students paint in the major elements.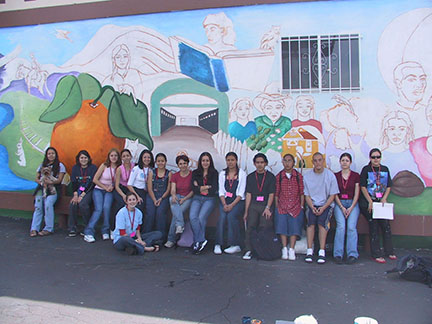 A group photo.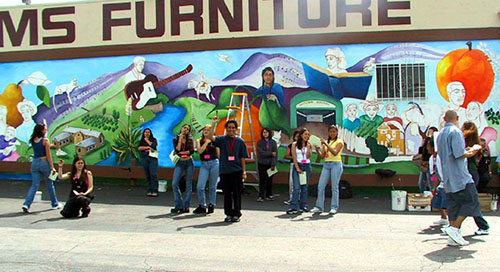 San Fernando High students practicing a performance piece in front of the mural before work in the morning.
Return to top of page