Doors Project Hollywood Walk of Fame - Los Angeles

Completed: October 2002
Description: Acrylic painting of celebrities on 40 corrugated metal security doors.
Located: Hollywood Walk of Fame, north and south sides of street, from Wilcox to Apache Blvd, Los Angeles, CA.
Funding: Commisioned by the Hollywood Beautification Team. Funded by the LA Community Redevelopment Agency.
Details: After the riots in the early 1990s, the city of Hollywood installed metal roll-up security doors to protect the businesses. At night, when the doors came down, it was a grim looking neighborhood. The Hollywood Beautification Team came up with the idea to put celebrity images on the doors.
As Project Coordinator and Lead Artist, Susan was contracted by the Hollywood Beautification Team, Hollywood, CA to create a budget, and to manage and paint this project after they had received CRA funding. It had taken the Hollywood Beautification Team 1 year to complete 4 test doors. Susan brought in 5 artists to help. While painting could only take place between 9pm and 4am, the 40 doors were completed in two months. Susan painted 30% of the doors, in addition to altering the images in Photoshop, mixing the paints in various hues of grey and preparing the equipment and materials for each night's work. At night when businesses closed and the doors came down, approximately four blocks on Hollywood Blvd became a night time art gallery.
The doors have not been maintained and have fallen victim to the blight of graffiti and tagging. The above photo gives you a sense of what these four blocks looked like early on a Sunday morning before the stores opened.
Additional Photos: Here of some of my favorite photos from this project: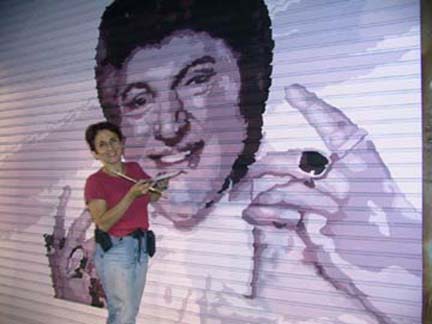 Liberace Door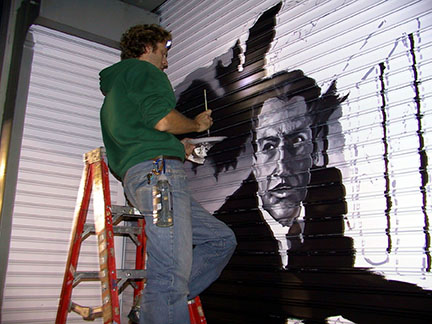 Vincent Price Door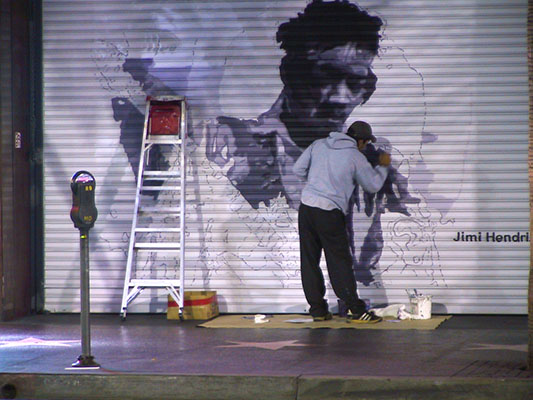 Jimi Hendrix Door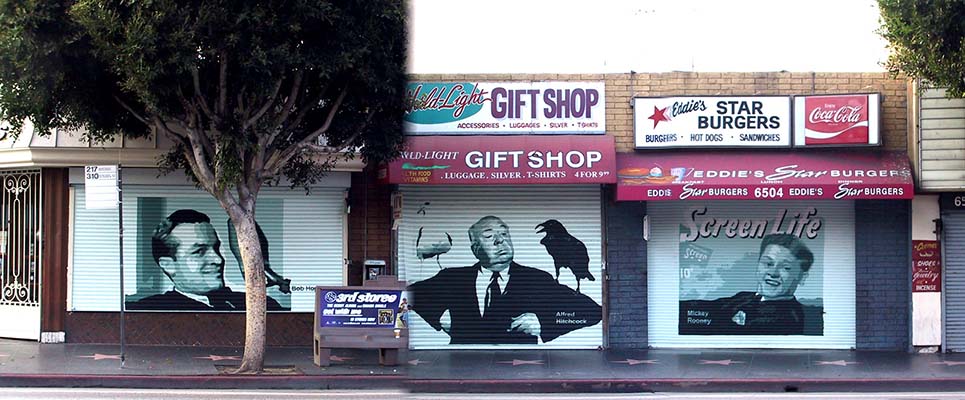 Bob Hope, Alfred Hitchcock and Mickey Rooney Doors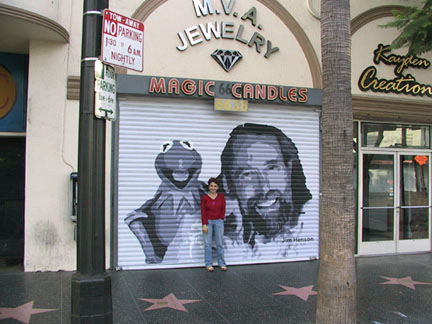 Kermit and Jim Henson Door

Johnny Weissmuller, Maureen O'Sullivan, Frank Sinatra and John Raitt Doors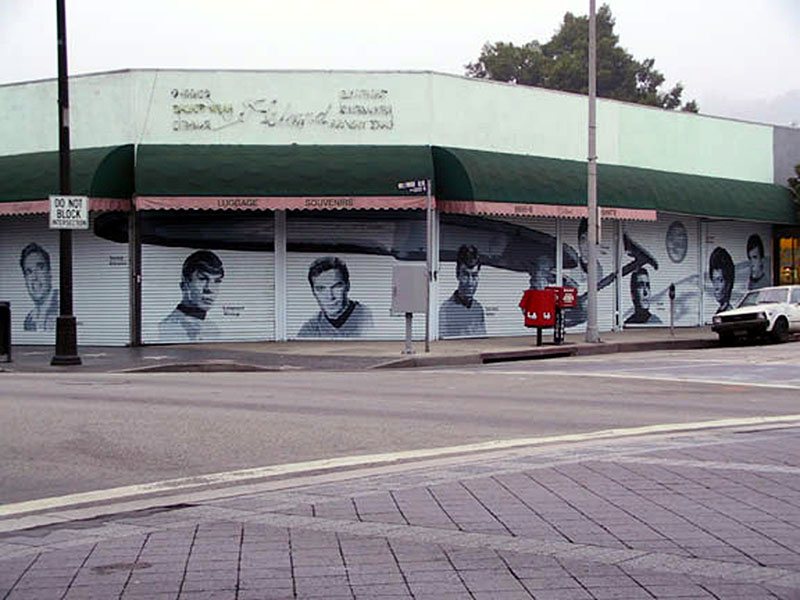 The Seven Doors that make up the Star Trek Corner
Return to top of page