Arte de Mexico Mural - North Hollywood, CA

Completed: September 2001
Description: 12' high by 260' wide acrylic on corrugated metal fence, topped with barbed wire.
Located: Located along the MTA railroad tracks between Vineland and Cahuenga on Chandler Blvd., North Hollywood, CA.
Funding: A Targeted Nieghborhood Initiative Project, Commissioned by the Chandler Outdoor Gallery.
Details: The above photo shows a little more than half of the mural (260' is very long). This mural depicts a meandering Spanish street scene, in keeping with the feel of the store's upscale Mexican and Mediterranean furnishings. This mural is one of twenty murals created by local artists to change a blighted area into a safe and usable bike path. Susan Krieg designed and painted three of the twently murals.
Additional Photos: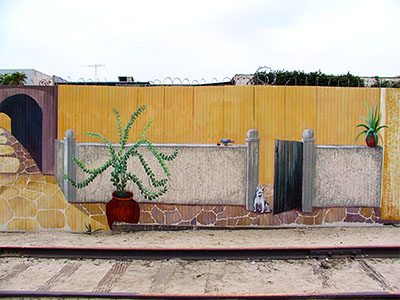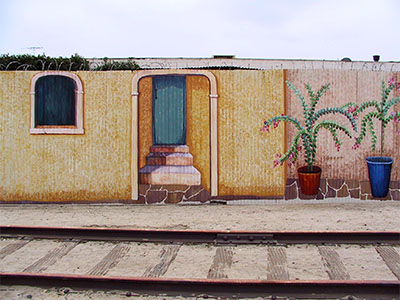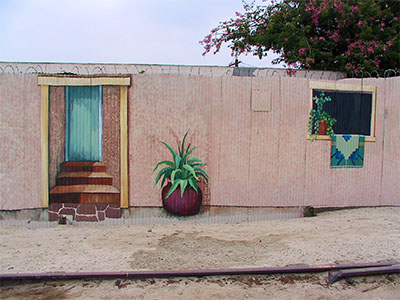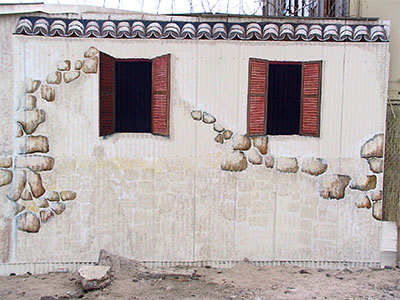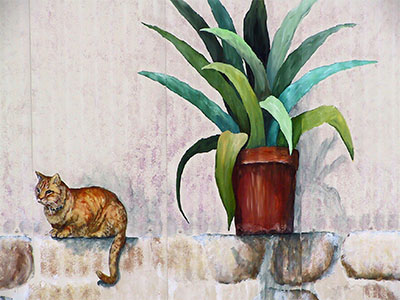 Narrative for Proposed Mural:
Arte de Mexico is a well-known up-scale Mexican and Spanish furniture and artifact store. The walls that face the Chandler Corridor consist of approximately 260 linear feet of corrugated metal ranging in height from 10 feet to 15 feet. Some areas of the wall are topped in barbed wire. A15 foot high storage container visually creates part of the wall and holds the Arte de Mexico sign, and a chain link fence is in front of a portion of one wall. There is also a small block wall and several posts along a wrought iron fence that will be painted. In keeping with its high quality merchandise, the mural will represent the beauty, history and endurance of the Spanish architecture with faux stone, stucco and brickwork. Utilizing the unevenness of the structures the image will be an ambling streetscape of stucco and stone walls with flowers and plants potted and growing up the walls and a trompe l'oeil archway. The colors will be kept in tones of beige with some patches of color in the green plants and colored flowers. The mural will be applied to a pre-primed and painted surface using Nova Color Acrylic Polymer Paints. A grafitti release coat will be applied to the mural in accordance with manufacturers specifications.
Return to top of page